!-index.html TEXT-> <!-UPDATE 2000.3.14->

Light weigt class

---
Start


---
RESULT


Light weigt Junior(below 100cc) Senior(over 100cc below 175cc)

| Order | No | Name | Motorcycle | Best Lap |
| --- | --- | --- | --- | --- |
| 1 | 333 | Eiji Nosaka | Bridgestone BS90 | 1'22.988 |
| 2 | 421 | Fumio Okano | Bridgestone BS90 | 1'23.880 |
| 3 | 441 | Yatarou Nosaka | Bridgestone 90 | 1'23.737 |
| 4 | 385 | Junichi Tanabe | Honda CR93(modified) | 1'25.122 |
| 5 | 466 | Yuuichirou Endou | Bridgestone 90 | 1'26.064 |
| 6 | 232 | Norio Ohkubo | Bridgestone EA-1 | 1'28.429 |
| 7 | 06 | Junichirou Uno | Yamaha YA6 | 1'28.288 |
| 8 | 494 | Kiyohide Takayama | Honda CR93 | 1'29.245 |
| 9 | 78 | Yuki Matsuki | Honda CB92 | 1'33.239 |
| 10 | 485 | Toshikazu Tsutsui | Kawasaki J1 | 1'36.304 |
| 11 | 267 | Tetsurou Oka | Bridgestone BS90 | 1'36.747 |
| 12 | 377 | Takashi Takeuchi | Bridgestone 90 | 1'37.577 |
---
The finals of Light weigt Class.
Openning lap


First, Tomiji Akiyama and Suzuki S10 leads the race. But, have engine trouble!
Finally, #333 Eiji Nosaka won the victory! Very good riding.




Most of the motorcycle which participated in the junior class is BS90. In senior class, some CR93, Tohatsu 106Y rare bike, and Suzuki S10, such as bikes participated. BS90 is lightweight and abundant in the power. Recently, they monopolize a high rank.


Masakatsu Morita and his Tohatsu 106Y. Wonderful motorcycle. Unfortunately, retired in 5th lap.
#441 Yatarou Nosaka. he has a great deal of experience in roadrace. He is the oldest of three "Nosaka Broth"
#385 expanded displacement 134cc CR93. Junichi Tanabe finished 4th. I presume that It is hard task even 134cc CR93 to compete with the BS90.
The frame of this CR93 is not a standard. It made in the present day. Moreover, it has the shape which was far from the standard.

Only the Japanese motorcycles participates for the rule of "the motorcycle producted before 1964 years only". An import motorcycle to apply it is rare in Japan. A TimeTunnel waits for the participation the motorcycle of the overseas.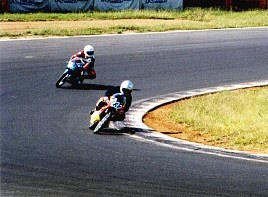 BS90 swept the higher places.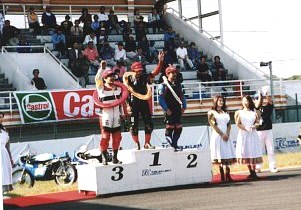 Congratulations! Mr.Nosaka.


back to

1999 Time Tunnel