!-index.html TEXT-> <!-UPDATE 2000.3.19->

Demonstration Running

---
Parade "At one time Japan challenged the world"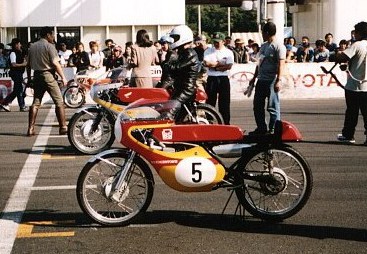 On the grid. Wait the start.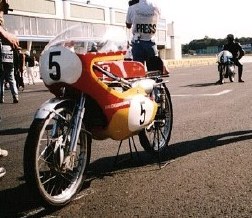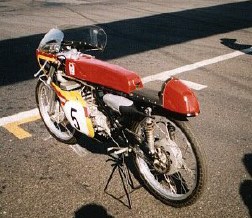 #5 1966 Bridgestone EJR-2. 50cc water cooled Twin-cylinder rotary-diskvalv Bore:Stroke 32:31mm 17ps/18000rpm 14speed.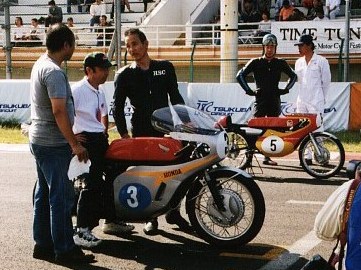 This side; Moto Kitano and #3 Honda RC174. He road Honda CB92 roadster and defeated works 4-cylinder RC141 in 1959 Asama race.
Far side; Fujio Watanabe and #5 Bridgestone EJR-2. He was not only Kawasaki works rider but also superior engineer before.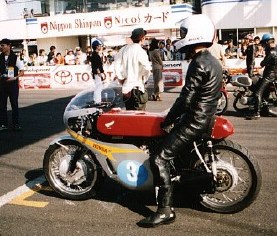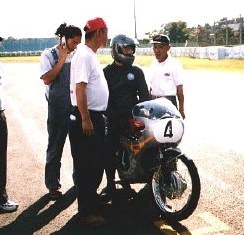 Left; #3 Honda RC174 350cc air cooled 6-cylinder gear-train DOHC 4valv engine Bore:Stroke 41.0:37.5mm.
Right; #4 Honda RC146 125cc 4-cylinder Bore:Stroke 35.0:32.0mm. Ridden by Junichi Tanabe.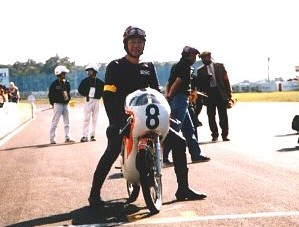 Naomi Taniguchi and #8 Tohatsu 50 twin. 50cc air cooled twin-cylinder Bore:Stroke 31:33mm 6speed. He road Honda RC141 and got 6 prize in 1959 Isle of Man TT.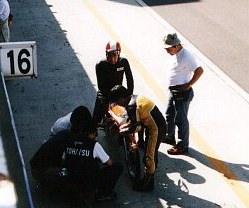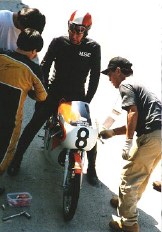 It is a real disappointment. The engine was in bad condition. We could not watch this motorcycle run.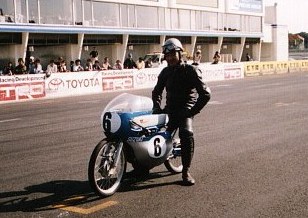 Kenji Koizumi and his 1964 Suzuki RM64. 50cc Engine exchanged with Suzuki TR50.
#6 TR50; single-cylinder Bore:Stroke 41:37.5mm 9.2ps/12000rpm 6speed

---
Demonstration Running





#400 1965 Bridgestone EJR. 50cc water cooled Twin-cylinder rotary-diskvalv Bore:Stroke 33.1:29mm 13ps/16500rpm 10speed. Ridden by Hirohide Uemura.



#5 1966 EJR-2 Fujio Watanabe manipulated very sensitive engine.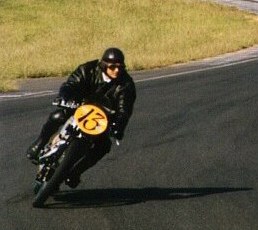 #13 First roadrace world champion Japanese, Takazumi Katayama. He is a 350cc class champion in 1977.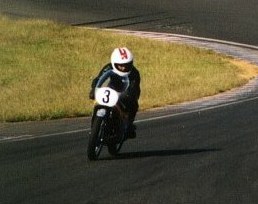 #3 RC174 approached the hairpin curve.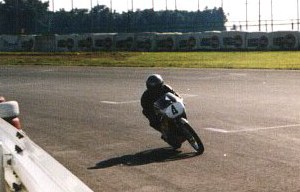 #4 RM64 Go out into the straight from the final corner.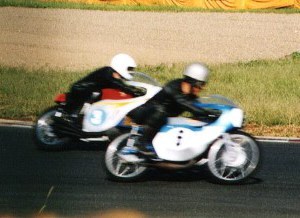 back to

1999 Time Tunnel